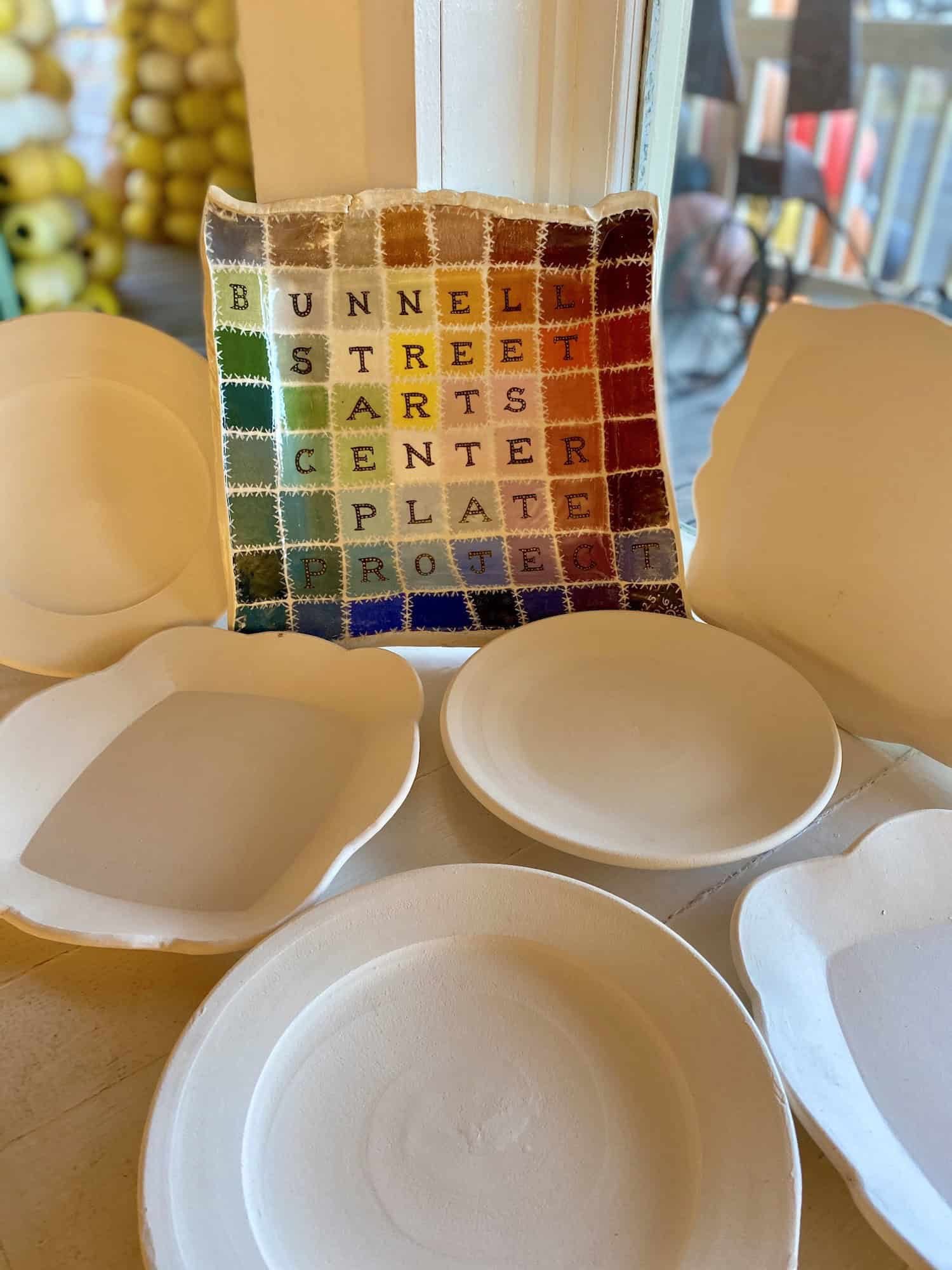 2021 Plate Project Painting February 5th – April 30th
Covid-Safety: Bunnell welcomes up to 5 masked, socially distanced, symptom-free visitors at a time. Bunnell is also open by appointment on Mondays to any who might need extra accommodation.
Every year dozens of Alaskan artists create unique art plates as premiums for $125 + membership donations to Bunnell Street Arts Center. The cornerstone of Bunnell's membership, the Plate Project was created and sponsored for 25 years by potter, Ahna Iredale. Local potter Jeff Szarzi now fires the painted plates in his Homer studio. Bisqued plates are blank "canvases" for brilliant food-safe underglazes. Artists are welcome to stop by Bunnell and paint a plate. If you'd like to get involved for the first time, staff and volunteers will gladly offer you tips and techniques to create a successful plate. All plates will be displayed at Bunnell in May. Plate Project opening is May 28th, 2021.
Paint an Art Plate and contribute to the well of creativity that nourishes this community. Art Plates are handmade by Homer potters and painted by you: artists, community members and Bunnell supporters. The Plate Project is one of our most dear campaigns, that directly fuel Bunnell Street Arts Center's mission and programs. The beautiful, collectable and functional Art Plates are available as premiums for memberships of $125 and above. We hope you'll participate this year. See past Plate Project galleries here.
Bisqued plates and painting materials will be set up by February 5th at the gallery. Painting is available during gallery hours (Monday by appointment only and Tuesday – Saturday, 11-5) to paint.First time painters are welcome but should be guided by staff until they feel comfortable with the medium. Note: This is not a project designed for children independently, although families are invited to help their child paint a plate assuming parents will select their child's plate to commemorate their own family's $125 membership. Call us with questions 907- 235 – 2662
To-go painting kits can be made available for you and picked up on Fridays. Choose your bisqued plate and up to five glazes to paint at home and return when you are finished. Choose your plate in person and use this plate key for colors: