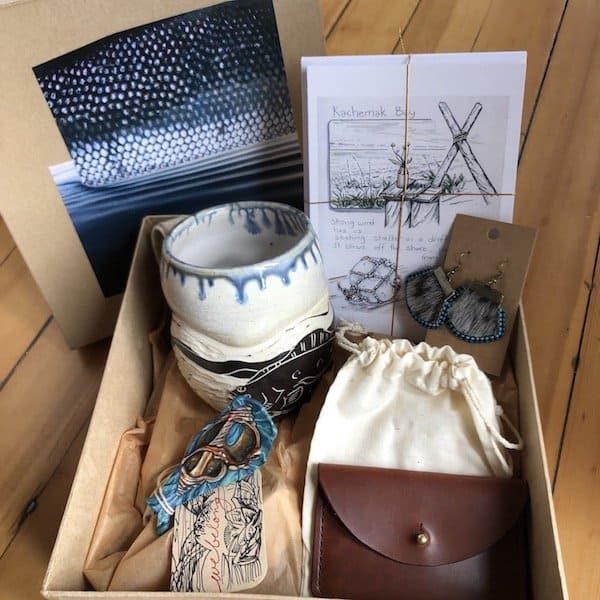 3rd Annual CSA Shares Available
What is a CSA? Over the last 20 years, Community Supported Agriculture (CSA) has become a popular way to buy seasonal food directly from local farms. With the same buy-local spirit in mind, Community Supported Arts is a similar endeavor to support local art, artists and collectors. It's been replicated in over thirty cities in North America over the past five years. This is Bunnell's 3rd annual CSA and the first to partake in Alaska. Alaska's first art CSA was begun in 2018 by Bunnell's Board of Directors to connect emerging artists with a community of collectors. Each CSA "share" includes a collection of small works by various Homer artists. Shares go on sale June 1, annually. For Bunnell Arts 2020 CSA, six emerging local artists from Homer were selected by competitive application. The artists were selected based on quality, contrast and compatibility for the CSA collection. Each artist created 30 shares for the CSA boxes. Each artist is paid upfront for the works -a guaranteed market. This stipend assists with the upfront production and labor of the art. Each share includes one piece from each of the CSA featured artists. Benefits of the CSA program for Artists include:
Gallery support and guaranteed revenue for the creation of their work

Establish relationships with the local artists and art community

Participate in the launch of an exciting new model of art and distribution
Benefits of the CSA program for Members include:
Receive multiple works from local artists at a fantastic value!

Develop relationships with the local artists and art community

Discover new artists and explore a variety of disciplines

Support local artists' careers and a vibrant community
Purchase your share: https://bunnell-street-arts-center.square.site/2020-csa
Selected Artists for 2020
Kim McNett: Six Notecards "Nature drawing and journaling fosters my curiosity of the places that I live and explore. The practice integrates visual art, science inquiry, and personal experience in a process that nurtures discovery. As a teaching artist, visual interpreter and wilderness guide, I seek to awaken the bond with nature that is inherent to everyone."
Mary Hayden: Leather Wallet "I make bags and wallets and other small items from environmentally friendly vegetable tanned leather. Each piece is cut by hand and hand stitched using a traditional saddle stitch technique, not with a sewing machine. My goal is to make beautiful, durable and functional pieces that will last a long time."
Sarah Frary: Paintings on Bone "Each painting is rendered in watercolor on scapula, the shoulder bone of a wild animal. Every piece is different and the species featured vary from fox, coyote, raccoon, porcupine, and bobcat. Sustainably harvested from a chapter of my life where I served as a taxidermist in Wyoming, each bone is boiled then cleaned in a hydrogen peroxide solution and becomes a wonderful canvas after treatment. Using bone as the foundation amplifies the intimacy with our environment: life and death are inherent to the great cycle that ties us all together. This is not grotesque. This is Nature."
Mae Silook: Seal Skin Earrings & Seal Skin Yoyo "I was born in Seward, AK and was sent out to St. Lawrence Island after my Dad was swept away by the tsunami following the 1964 earthquake. This is where I learned how to sew sealskin. I try to use as much as possible of the sealskin to honor the animal. Participating in the CSA enables me to share my Siberian Yupik Culture"
Jeff Szarzi: Ceramic Mug "My pottery is for use in the home and is inspired by curiosity and place. I experience Alaska through adventure and observing its beauty, wildlife, and ruggedness and wish to capture it in my surface decorations. Using my passion for carving and drawing, I create images that capture Alaska. My surface designs reflect my love for the outdoors; themes include imagery of marine life and fresh water ecosystems, and the local landscape. All my images are hand drawn and are combined with glazes that are designed to compliment the subject. Finally, my work strives to be visually and tactically appreciated."
Thorey Munro: Box Top Collage "My work is a conversation with the inner lives of landscapes, bodies, light, and time. As a fisherman, I think fluidly, in-relation to the desires of salmon and rivers. In architecture, I see the spatial experience as iterations of materials and meaning in time, bled through with light and texture. My art practice moves in dialogue with apparatuses that help me discover visually what I sense about the entanglement of forms, time and meaning in the world." Join us on Friday, August 21, at 6pm for the CSA online reception! Register to participate.