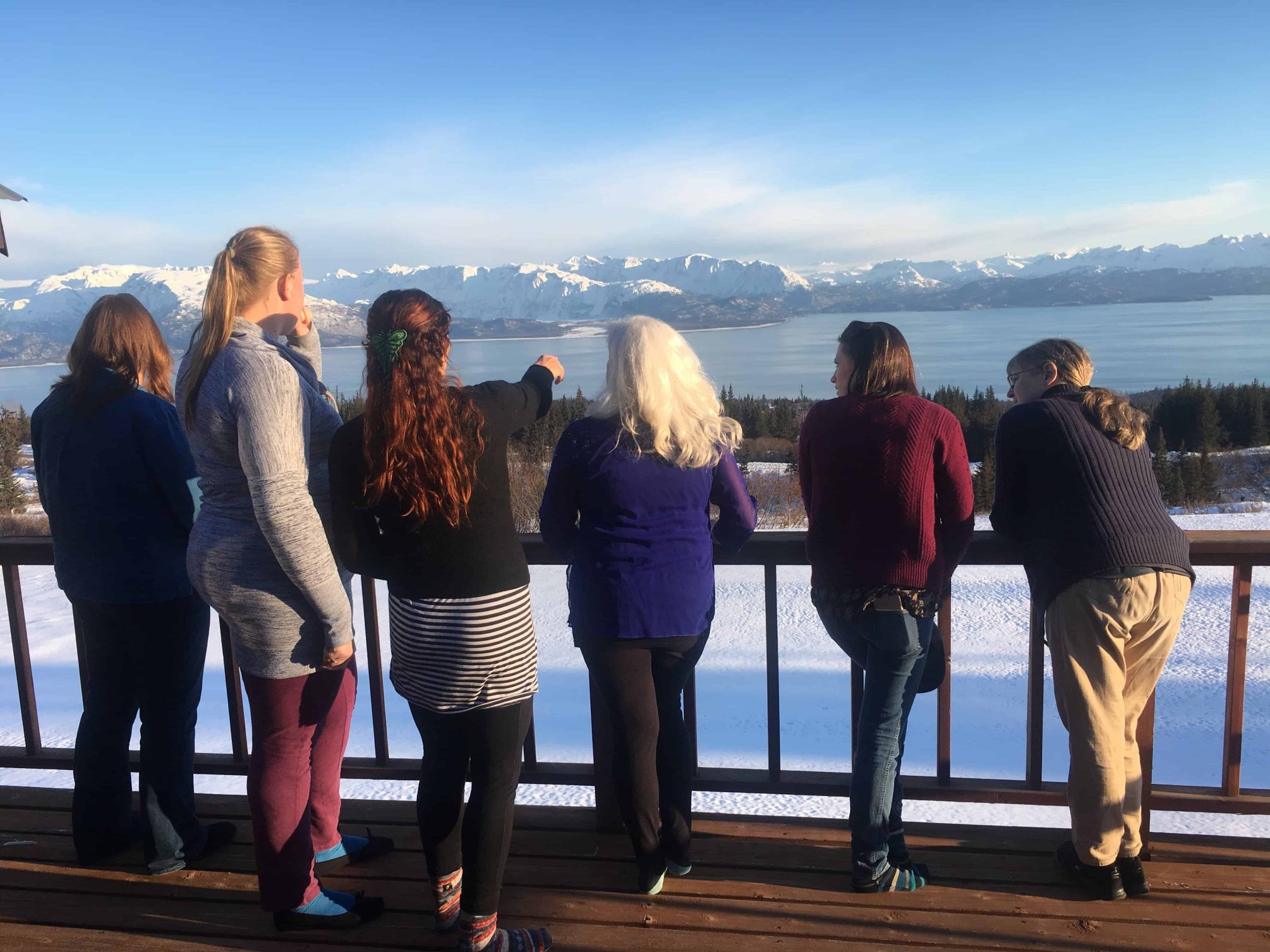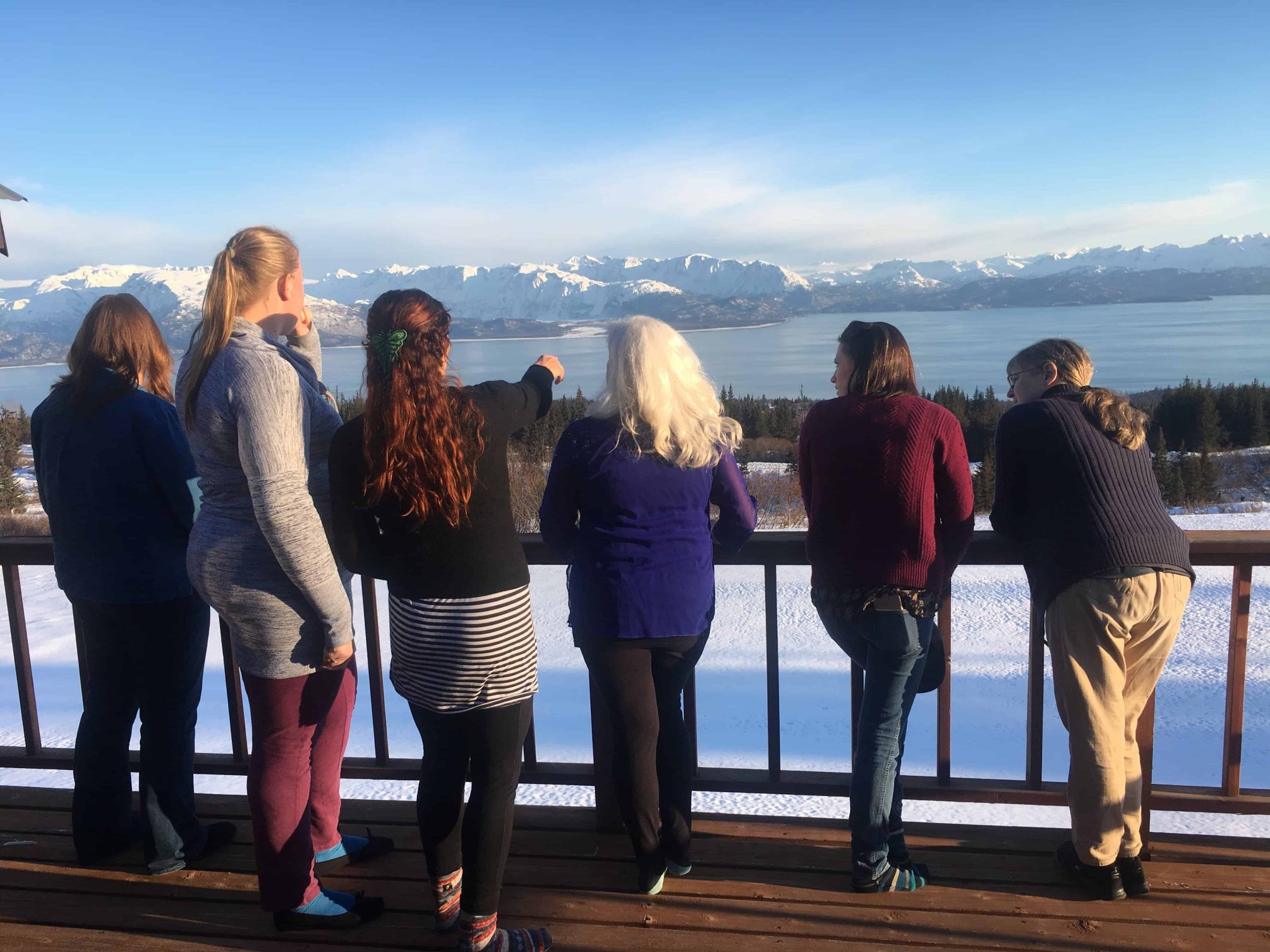 Bunnell 2018 Press Release announcing co-leadership
Bunnell Street Arts Center is pleased to announce a transition to a bold, new shared leadership model. Founding Artistic/Executive Director, Asia Freeman moves deeper into curatorial and artistic leadership as Artistic Director. Adele Person, formerly Assistant Director, takes on the role and responsibilities of Executive Director. The move enhances organizational sustainability and brings the complementary strengths of each leader to bear. Innovation continues to characterize Bunnell's leadership as it reconfigures internal dimensions from a traditional pyramid-shaped leadership structure toward a horizontal co-leadership model.
The roles of Artistic and Executive Directors overlap and spark creative brainstorming, collaboration, and communication. Freeman and Person explored and practiced new roles in 2017. Freeman focuses on artistic vision, programming, grant writing, networking and advocacy. Person provides organizational and financial oversight, manages staff and office, facilitates the Board of Directors, and integrates the implementation of the ambitious artistic vision set forth by the Artistic Director. With enthusiasm and respect for Bunnell's spirit of experiment and excellence, together Freeman and Person strengthen the artistic and organizational capacity of this innovative arts organization.
Bunnell was created in 1991 by and for artists. Years ago, beginning in the 1930's, homesteaders told stories around the coal stove in what was then a spacious hardware store in Old Town, Homer. This place has seen American, European, and Russian immigration and colonization. The place we now call Homer lies in the traditional lands of Dena'ina and Alutiiq people. We honor these people and the living culture that call this home. With equal parts historical acknowledgement and creative imagination, locals and visitors, indigenous and immigrant, seek creative forums in this historic center.
Bunnell is a statewide leader of artistic presentation and education with innovative and non-traditional programs designed to shape and strengthen Alaska's cultural economy. Bunnell presents visual art exhibitions, artist residencies, artists in schools, workshops, performances, concerts, film screenings, readings, artist talks and more. Bunnell engages Alaska's diverse and widespread artistic community by cultivating and exploring new ways to survive and thrive as creative visionaries living in geographically distinct landscapes.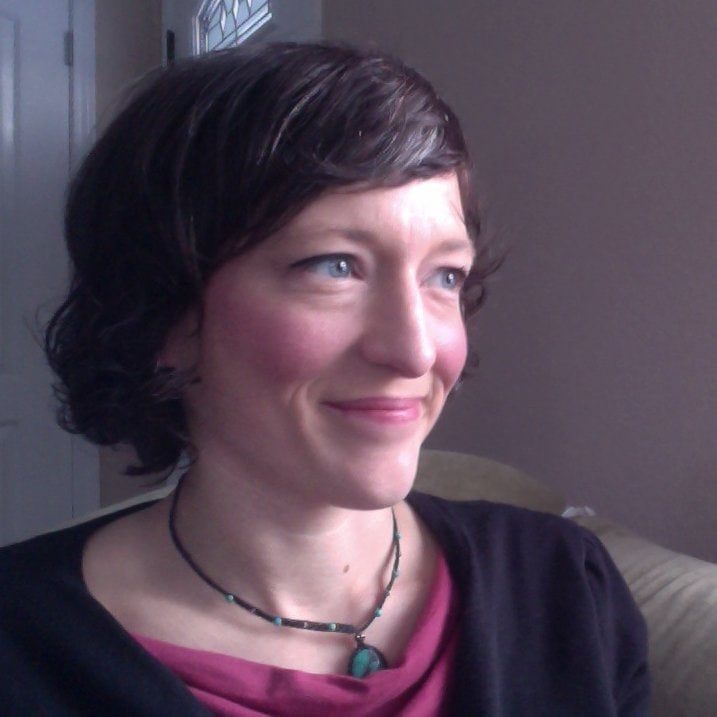 ADELE PERSON
EXECUTIVE DIRECTOR

Adele manages Bunnell Street Arts Center's general operations. Bringing significant improvements in Bunnell's organizational capacity since joining the Arts Center in 2008, Adele became Assistant Director in 2010. Adele has a BA in Philosophy from Rice University ('00) where she worked as a gallery docent and trainer for the Contemporary Art Museum in Houston for 3 years. She was selected as inventory manager for the Donald Judd Estate as it transitioned to a foundation in 2000. Self-employed for many years, she brings a broad and diverse skill set to her work for Bunnell. A seasonal resident of Halibut Cove, she is also President of the Halibut Cove Community Organization. She serves on Homer's Public Art Committee.
ASIA FREEMAN
ARTISTIC DIRECTOR

A life-long Alaskan, Asia returned to her beloved home town after college to help cultivate Alaska's cultural economy. Asia began volunteering at Bunnell Street Gallery in 1992. She helped shape it into non-profit in 1994. In 2000 Asia was named Executive/Artistic Director of Bunnell Street Arts Center. Asia frequently writes, curates and speaks about art in Alaska. She has been written about extensively in Alaskan newspapers and in Icebreakers. An active artist, Asia has exhibited in multiple solo and group formats annually since 1991. Her artwork is represented in Alaskan museum and private collections world-wide. Asia graduated from Yale College in 1991 and received an MFA in Visual Art from Vermont College of Fine Arts in 1997. She has taught art classes for the University of Alaska since 1997.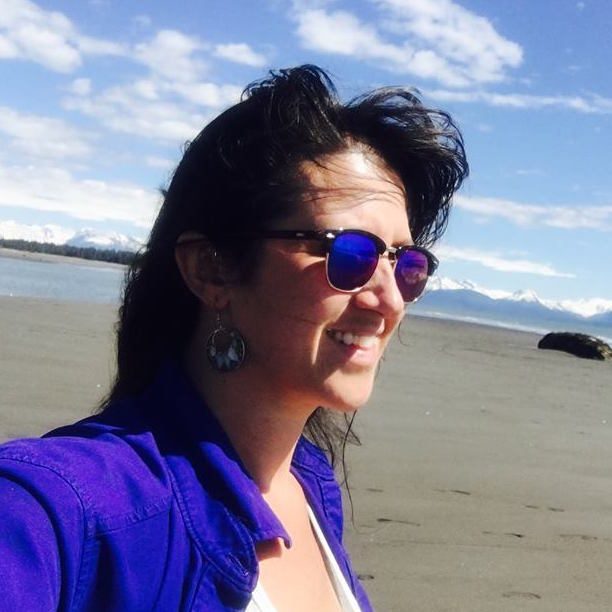 BRIANNA ALLEN
Marketing and Development Lead

Brianna Allen received her Bachelors in Studio Art and Entrepreneurial Studies, and her Bachelors in Fine Arts with a concentration in Painting from the University of Southern Maine in 2007. She has also studied at the National Latvian Academy of Art in Riga, Latvia. In 2008, her passion for adventure and painting brought her to Homer for the summer, while she painted portraits of nightlife vigilantes. She has lived in Homer since 2009 as a painter, baker, performer and art advocate. She helped Bunnell's effort to galvanize Old Town through public art, gardens and developing new partnerships for Bunnell. She still remembers the first day she walked into the Bunnell Street Arts Center.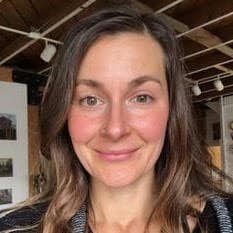 BRIANNA LEE
Gallery Assistant

Brianna Lee moved to Homer in 2008 to pursue a more sustainable and creative lifestyle. She received her Bachelor of Fine Arts from the College of Visual Arts in St. Paul, Minnesota. She spent her first years in Homer painting and managing a local bakery while simultaneously showing her work inside local cafes. She has taught young children art classes and facilitated an after school art program. She is a mother, farmer and nature enthusiast. Brianna assists in managing Bunnell's gallery, monthly exhibits and online platforms.
Board Members
Rika Mouw / President

Rika is a 22 year member, volunteer and supporter of Bunnell Street Art Center. She has served on the board since 1999, having been board president for 5 years followed by a several year hiatus. She recently stepped back on the board and serves on the executive committee. Rika is an artist and a passionate arts & culture advocate. She believes the arts reflect the highest human endeavor and that they are the strength of the Homer community. Her passion for Bunnell includes the exhibition program, creative place making and its dynamic artist residency program.
Carla Klinker Cope / Secretary
Carla Klinker Cope is an artist living and working in Homer Alaska, where she is also raising a family with her husband Daniel. Her paintings and sculptures are driven by the push and pull between light and dark. Carla has been a board member at Bunnell since 2011.
Judith Kramer / Treasurer
Judith went to school worked and lived in NYC for a major portion of her life initially as a fashion model, then stock broker, then teacher, photographer, reporter and finally a physical therapist. A true Jill-of-all trades, she also has also owned a fly fishing lodge in Illiamna. Homer has become her new home and she is thankful for the opportunity to join Bunnell's Board.
Maura Brenin
Maura owns and operates Maura's Café & Delicatessen, located in the Inlet Trading Post. Formerly, she was Board president of Kachemak Bay Family Planning Clinic. She caters Bunnell First Friday receptions, presents tastings, cooking classes and many local fundraising events to support Homer's cultural sector. She studied art at Savannah College of Art and Design.
Susan Johnson
Susan moved 5,000 miles to come to Homer to work and be involved in the arts. She had previously served for 10 years on the board of the Agassiz Neighborhood Council in Cambridge, Massachusetts, a non profit which ran an art-centered after-school program that also planned, funded, designed and built the Maud Morgan Art Center that serves both adults and children.
David Pettibone
David Pettibone received his BFA in Painting from the Rhode Island School of Design and his MFA in Painting from the New York Academy of Art. Exploring the very convoluted theme of the human relationship with the natural world, his work led him to Alaska. Pettibone regularly exhibits his work and has taught painting and drawing at various schools and institutions in both New York City and Alaska.
Nathan Spence
Nate spent his childhood wading through ponds, ditches and tide pools of the Kachemak bay watershed, to catalog the various creatures therein. These early explorations fueled years of escapism, scribbled in notebooks through the hard times of adolescent public education, and eventual matriculation. He still enjoys scribbling in notebooks, or sculpting in clay, but most of his free time is now dedicated to building computer games, prominently featuring creatures which might have crawled out of the intertidal zone.
Christina Fenner
Christina moved to Homer, AK from Brooklyn, NY in 2011, after the beauty of the landscape turned a summer-long stay into a lifelong home. Serving on a number of boards including the Bunnell Street Art Center and Friends of the Alaska State Library, Archives and Museum allowed her to understand the importance of the nonprofit sector and its ability to impact communities now and in the future. Christina began working full-time in nonprofit at the Bartlett Regional Hospital Foundation in Juneau in 2014. Now the Communications Manager at The Alaska Community Foundation, Christina supports the vital work being done to better Alaska. Christina studied fine art and art history at the Pacific Northwest College of Art and Reed College in Portland, OR. When not working at ACF Christina has a full-time art practice creating fine art for galleries across the state.
Advisory Council
Bunnell's Advisory Council provides advocacy, education and guidance for Bunnell's current Board and advice to Bunnell's Executive Director. The Advisory Council also provides non-governing representation at Bunnell's Board meetings.
Carol Swartz / Co-Chair
Carol Swartz is a co-founder of Bunnell and served on the board since Bunnell's inception until 2015. She is the Executive Director of the Kachemak Bay Campus of the University of Alaska and a Homer Foundation Board Member.
Jo Michalski / Co-Chair

Jo Michalski is a retired Anchorage entrepreneur with a strong interest in philanthropy and the arts. She has been the President of the League of Women Voters, President of the YWCA board of directors, a charter member of the Alaska Junior Theater, and a board member of the Anchorage Chamber of Commerce. She is a former board member of both the Alaska Community Foundation and the University of Alaska Foundation. Jo is a former Bunnell board member and celebrates the Bunnell as the premier presenter of contemporary Alaskan art in our state!
Diane McBride
Diane McBride served as the President of Bunnell's Board of Directors for many years. She moved to Homer in 1969 and holds a Master's degree in education. She lives in Homer with her family and across Kachemak Bay in China Poot Bay. Strategic planning and endowments are her special interests in her advisory board position. She encourages all Alaskans to support the arts like Bunnell's Artists in the Schools and Artist-in-Residence programs.
Flo Larson
Flo Larson is a retired mathematics teacher in the United States for over fifteen years and in SE Asia for six years. She enthusiastically supports Bunnell Arts Center and admires its contribution to the Homer community and Alaska. She served on Bunnell's Board of Directors for several years before joining the Advisory Board.
Gina Hollomon

As an artist and a supporter of artists, I am honored to have been a part of the Bunnell Street Art family for almost 20 years. Alex Combs once told me that the only gallery worth their salt in Alaska was the Bunnell and Asia Freeman was the only one in the gallery business that 'got it' for artists. My involvement with the Bunnell has been that of an Artist, a Board Member, and now as a member of the Advisory Board. There is no more nurturing environment for an artist who is just spreading their wings and gaining confidence in their abilities, learning how to present their work, how to apply for residencies and grants. Seasoned artists find validation, supportive friends and positive reinforcement. I've never witnessed or experienced a fellowship anything like that fostered through the Bunnell Community. It's the lucky artist who finds their way to the Bunnell Street Art Center, whether its by way of a residency, an exhibit, a money award to help with a workshop or just visiting the gallery to see another artist's exhibit. Whether the artist's style is traditional, experimental or one who is still searching for their voice, the Bunnell is a place of encouragement. I've been involved with several artist communities over the years and there is no other Bunnell. I couldn't be prouder to be a part of this community.
Kes Woodward
I am a Fairbanks painter, art historian, and curator, enjoying my 40th year in Alaska. I worked as a curator at the Alaska State Museum in Juneau, as Artistic Director of the Visual Arts Center in Anchorage, and as a professor at the University of Alaska Fairbanks before retiring to my studio to paint full-time in 2000. It's been my privilege to work closely, in various ways, with most of the major arts institutions in Alaska, and none has been more energizing and rewarding than Bunnell Street Art Center. I'm honored to serve on its Advisory Board.
Melissa Shaginoff
Melissa Shaginoff is part of the Udzisyu (caribou) and Cui Ui Ticutta (fish-eater) clans from Nay'dini'aa Na Kayax (the log over the river or Chickaloon Village). She grew up on the southern coast of Alaska where she learned the lifeways of her cousins the Dena'ina peoples. Shaginoff is currently the Curator of Contemporary Indigenous Art and Culture at the Anchorage Museum. She has participated in the Sheldon Jackson Museum Artist Residency in Sitka, Alaska as well as the Island Mountain Arts Toni Onley Artist Project in Wells, British Columbia. Shaginoff has work collected by the Institute of American Indian Arts, the Palmer Museum and the Pratt Museum. Shaginoff joined Bunnell's advisory broad because she believes that arts communities are grown from cultural innovation, visibility and equity. She is deeply honored and grateful to serve on board dedicated to exceptional art in all forms.
Charlotte Fox
Charlotte Fox has lived in Alaska most of her life and served as Executive Director for the Alaska State Council on the Arts for 12 years, retiring in 2012. She remains involved in arts and culture issues and organizations in Alaska, and has always admired the work that Bunnell does. Bunnell Street Arts Center is what many nonprofit galleries strive to be – a cultural touchstone in the community, maintaining a high level of artistic quality and excellent educational outreach.
Denice Clyne
Denice Clyne has been involved in the Bunnell Street Arts Center since 1997, when first joining, began volunteering the following year and joined the Board in 2000, serving as member, president for a few years and currently an Advisory Board member. Being a part has Bunnell Street Arts Center has enriched lives for nearly three decades and our family is honored to be a part of this remarkable organization that is unique to all of Alaska. As a retired Alaskan educator of 34 years, I became involved to support the Artist in Schools program and the breadth of the arts represented here in the Gallery and the broader community. It is an honor to continue to support the Gallery and it's mission.
Aron Wolf

Dr. Aron Wolf is a psychiatric physician who has lived and worked in Alaska for over 50 years. He was raised in New York with significant exposure to the arts. Dr. Wolf's late wife was the Director of the Anchorage Museum for over 30 years and was thus involved with the development of the Arts in Alaska for that period of time. He is currently on the executive board of the Anchorage Symphony. He is honored to be a member of the Bunnell Advisory Board as Bunnell is a leader in the future development of the Arts in Alaska.