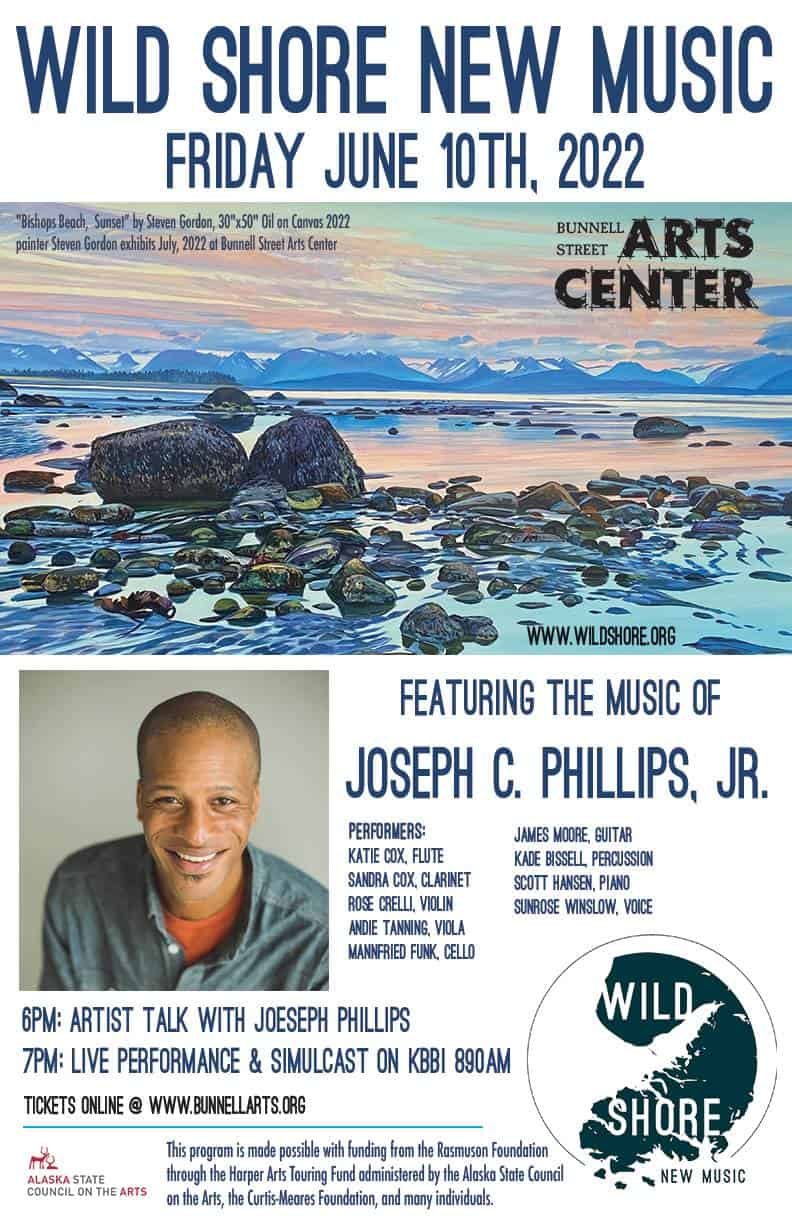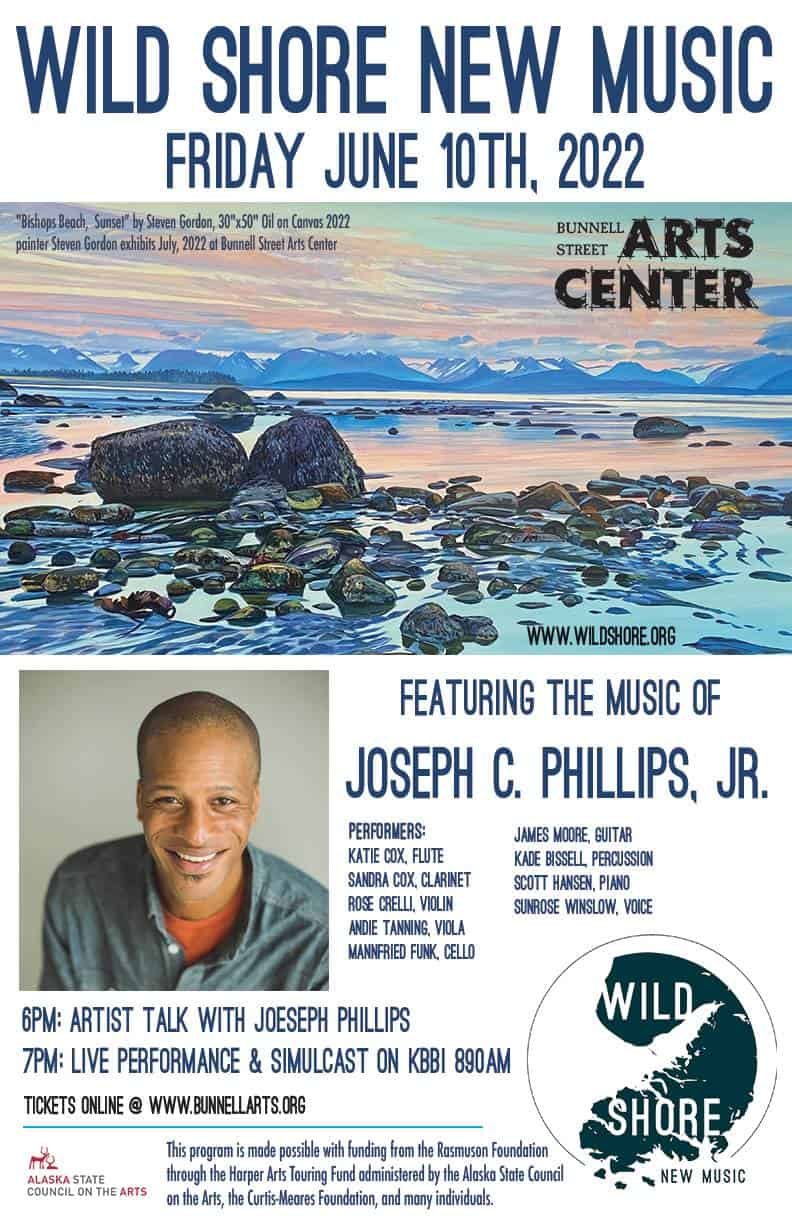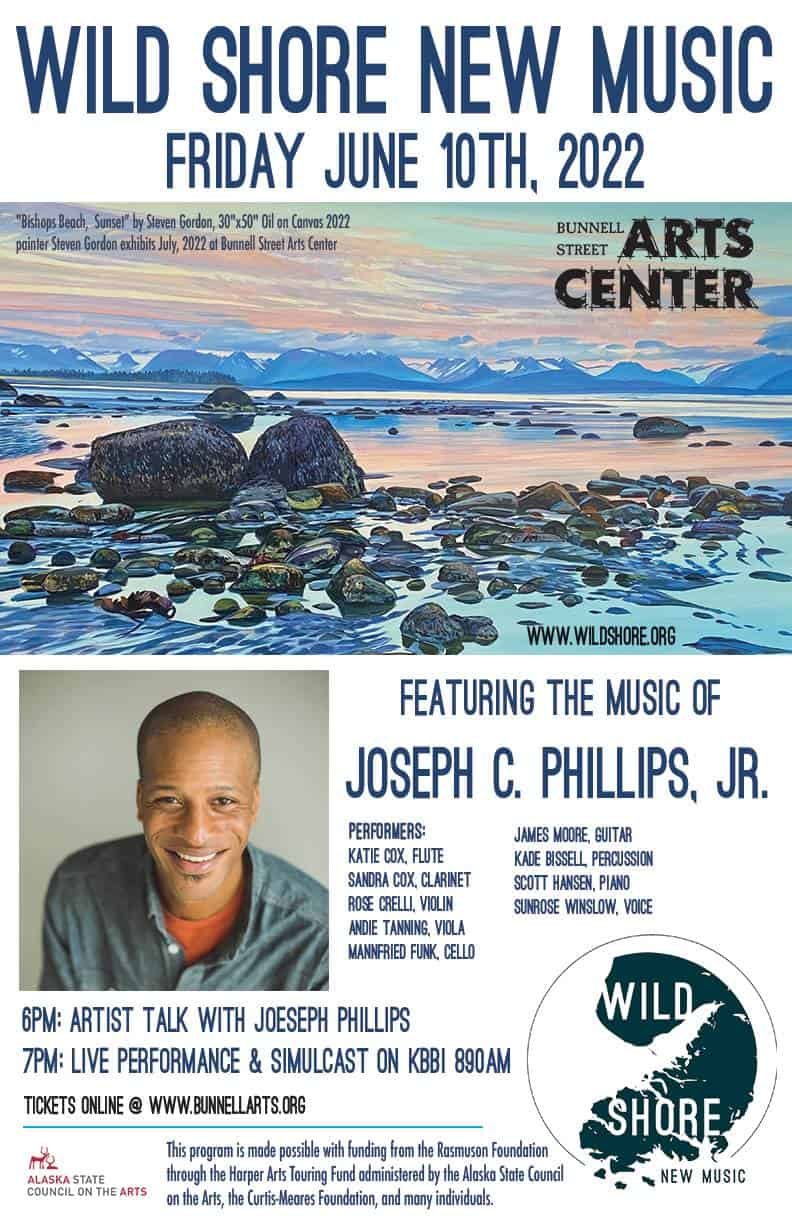 Wildshore, Artists in Residence, June 2022
Bunnell welcomes Wild Shore New Music, as Artists in Residence, a New York-based, Alaska-raised chamber music collective featuring composer Joseph C. Phillips Jr. from June 6th – 11th. Wild Shore will broadcast on Bunnell Arts by Air in partnership with KBBI on Friday, June 10th at 7 pm. A composer talk is prior to the broadcast, 6 to 6:45 pm on June 10, 2022.
Homer, Alaska, June 6 – 11th —  Annually since 2014 Wild Shore New Music, led by Andie Tanning (violin) and Katie Cox (flute), enlists accomplished composers and performers to present dynamic chamber musicians, presenting concerts and outreach events in Alaska. This year, Wild Shore will feature Alaskan musicians performing the works of Brooklyn-based composer Joseph C. Phillips Jr..
The program will feature several of Mr. Phillips' works including Unlimited, from his larger work Changing Same. Mr. Phillip writes that Unlimited is "about my conscious acknowledgment of my heritage in popular and contemporary music and culture, but reflects a post-black aesthetic… Through a lens of individual experience, Changing Same explores some of this richness, diversity, and complexity of blackness in America during my lifetime."
Other works include The Spell of Vanishing Loveliness, a piece about Mr. Phillips' personal experience on the day the Twin Towers were attacked, and Never Has Been Yet, a piece for piano and narrator setting the text of Langston Hughes' poem "Let America Be America Again."
Performers Include: 
Sunrose Winslow, voice (Homer)
Katie Cox, flute (New York)
Sandra Cox, clarinet (Anchorage)
Rose Crelli, Violin (California/ Alaska)
Andie Tanning, viola (New York)
Mannfried Funk, cello (Homer)
Kade Bissell, percussion (Anchorage)
Scott Hansen, piano (Fairbanks)
Jame Moore, guitar (New York)
This program is made possible with funding by Rasmuson Foundation through the Harper Arts Touring Fund administered by the Alaska State Council on the Arts.  Bunnell Street Arts Center's Artist in Residence (AIR) features Alaska, national and international artists for residencies of varying lengths, from one week to one month. The program has evolved with support from McKnight Foundation, Rasmuson Foundation, US Artists, Homer Foundation, ArtPlace America and the National Endowment for the Arts.
Today, it is primarily supported by private donors, foundation grants, and application fees.
Bunnell Street Arts Center's mission is to spark artistic inquiry, innovation and equity to strengthen the physical, social and economic fabric of Alaska.
Composer Talk: Friday June 10th, 2022, 6pm, free
Composer Portrait Concert: Friday, June 10, 2022: Bunnell Arts by Air with KBBI, 7:00. In-person audience must arrive by 6:45pm. Tickets are sliding scale: $20 discount, $30 regular, $50 pay-it-forward and can be purchased at https://bunnell-street-arts-center.square.site/concerts